Canopy Light For Lift Tech Marine Motors
March 31, 2023

LIFT TECH MARINE WHEEL DRIVE DC MOTOR WITH 12 VOLT SOLAR PANEL PACKAGE
April 7, 2023
LIFT TECH MARINE PWC DC MANUAL MOTOR With 12 Volt Solar Panel Package
$1,357.00
Product Code: DCM-PWC-12 VOLT SOLAR PACKAGE
Manufacturer: Lift Tech Marine
In stock
Lift Tech Marine PWC DC Manual Boat Lift Motor. Comes complete with solar panel kit.
  This will fit any boat lift that came with a wheel. This PWC  (Personal Water Craft) DC manual boat lift motor uses a key to operate the lift.  By simply turning the key it will raise or lower your boat lift with ease.  All DC motors require a battery. Lift Tech Marines PWC kit is compatible with all PWC lifts and can be installed on either side of the boat lift.
The perfect sized motor for your Personal Watercraft Boat Lift.
Manual system that operates with a key. Also has pendant port so you can add an optional pendant if you would like. Pendant shown below.
It comes as a complete kit so it will fit any PWC lift.
Complete kit comes with the PWC motor, Dutton Lainson 1500A winch with black protective cover and mounting kit.
Will lift up to 1500 lbs.
DC 12 volt Battery Current.
Quick and easy install. All directions included.
Winch can be installed upside down if needed.
Recommended battery 24 series Deep Cell Battery.
Comes with a 2 year warranty.
This 12 volt complete solar panel package comes with the following:
DC PWC MOTOR,  DUTTON LAINSON 1500A WINCH, AND MOUNTING KIT.  
12 VOLT SOLAR PANEL WITH ALL WIRE AND MOUNTING HARDWARE.  THE SOLAR PANEL POLES ARE ADJUSTABLE FROM 3-1/2 FEET TO 6 FEET HIGH. 
12 VOLT CHARGE REGULATOR TO PROTECT YOUR BATTERY FROM DAMAGE AND BEING OVER CHARGED.
BATTERY TRAY FOR 12 VOLT SYSTEM.
LOOKING FOR PARTS TO FIT YOUR BOAT LIFT?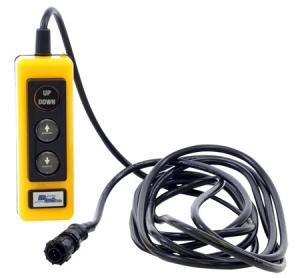 Related products
Product Code: GEN2-DCR-AS-12 VOLT SYSTEM
Manufacturer: Lift Tech Marine

$

1,862.00

Product Code: GEN2-DCM-24 VOLT SYSTEM
Manufacturer: Lift Tech Marine

$

1,504.00

Product Code: DCM-PWC
Manufacturer: Lift Tech Marine

$

915.00