Lift Tech Marine Newmans Install Kit
March 30, 2022

GEN2 DC WIRELESS REMOTE MOTOR
April 1, 2022
GEN2 DC MANUAL MOTOR
$852.00
Product Code: GEN2-DCM
Manufacturer: Lift Tech Marine
In stock
Lift Tech Marine DC Manual Boat Lift Motor.
 Boat Lift Motors sales has partnered with Lift Tech Marine to offer the most advanced boat lift motors on the market featuring top speed and a 2-year warranty against manufacturer defect. This will fit any boat lift that came with a wheel. This DC manual boat lift motor uses a key to operate the lift.  By simply turning the key it will raise or lower your boat lift with ease.  All DC motors require a battery.
Advanced motor with safety features built in that no other company has.
Will fit ANY boat lift that has a wheel. Up to 7,000 pound capacity.
12 Volt / 24 Volt DC Batteries. Hook up one or two batteries. Comes with a 5 foot cable to connect the battery.
Quick and easy install. All directions included.
Comes with a back up bit to lower or raise motor incase of a power failure.
Comes with 2 keys and pendant port built in so you can add an optional pendant. (Pendant shown below)
Lift Tech Marine offers a 2 year warranty against manufacture defects on all of our boat lift motors.
Recommended battery 24 or 27 series Deep Cell Batteries.
Remember to order your install kit to match the winch on your lift. All Lift Tech Marine Boat Lift Motors Require an Install Kit Sold Separately.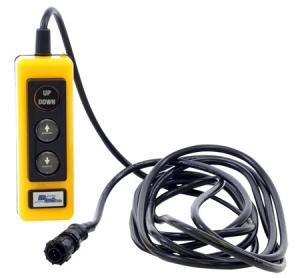 LOOKING FOR A MOTOR TO FIT YOUR BOAT LIFT?
Do to the high volume of calls and hold times we recommend
using our live chat for faster service.
You may also like…
Product Code: GEN2-DCR WITH BLUETOOTH BUILT IN
Manufacturer: Lift Tech Marine

$

1,230.00

Product Code: GEN2-DC AUTOSTOP WITH BLUETOOTH BUILT IN
Manufacturer: Lift Tech Marine

$

1,385.00
Related products
Product Code: GEN2-DCM-12 VOLT SYSTEM
Manufacturer: Lift Tech Marine

$

1,380.00

Product Code: GEN2-DCM-24 VOLT SYSTEM
Manufacturer: Lift Tech Marine

$

1,504.00

Product Code: GEN2-DCR-AS-12 VOLT SYSTEM
Manufacturer: Lift Tech Marine

$

1,862.00